September 26, 2011
by
euroeditor
LET THEM EAT CRO: NEW SHOW FOR CHICAGO ARTIST MONTH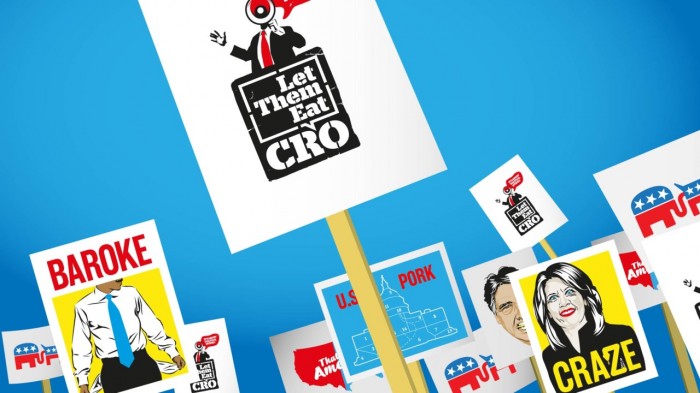 Creative agency EURO RSCG CHICAGO will open its downtown offices this October for a unique artistic partnership.
As part of Chicago Artists Month, rising Chicago artist Ray Noland, aka CRO, will be displaying his newest work in the agency's lobby.
Open to the public and titled "LET THEM EAT CRO," the politically charged exhibit will literally take over EURO, expanding beyond the lobby's gallery into full-scale wraps of the agency's 2-story windows visible from the street. Building on his iconic street art, including 2008's "Go Tell Mama" art campaign, 2009's "Run, Blago, Run" stencil campaign, and his celebrated covers for the Chicago Reader, CRO's latest work is a no-holds-barred, non-partisan indictment of the broken political system.
With his trademark humor, CRO lashes out at both parties and the celebrity-obsessed media preventing real change. "Ray represents the young and wise voice of modern street art and graffiti in Chicago," says Jason Peterson, Chief Creative Officer of EURO. "He's at the forefront of contemporary art in America and we're humbled to be working with him on this."
Ray Noland will be available for interviews, will have pieces and prints available for purchase throughout the show, and is starting a Kickstarter.com donation page. He plans to put proceeds toward taking "LET THEM EAT CRO" on a national tour later this fall.
"LET THEM EAT CRO" SCHEDULE
OCT. 6: SHOW OPENS AT EURO CHICAGO'S 36 EAST GRAND OFFICES
OCT. 7, 6-9PM OPENING NIGHT PARTY: MEET & GREET WITH ARTIST
OCT. 8 & 9, 10-4PM: OPENING WEEKEND; EXHIBIT OPENS TO PUBLIC
OCT. 10-28: SHOW OPEN FROM 9AM-5:30PM MONDAY-FRIDAY